Domestic Liturgical Fabrics
All of us, from time to time, purchase 'domestic fabrics'; we find just the right green down at JoAnn's – and it works just fine. We all do that. But, we also know that JoAnn's and Hancocks sell 'the fashion colors'. We also know that the fashion colors don't always coincide with our liturgical colors. And, that's what's good about me. I don't stock the fashion colors; I stock only our liturgical colors – in a good range of shades, for your liturgical vestments.
At this time, we're having trouble finding good fabrics because China is flooding the United States with cheap fabrics. One of my suppliers tells me that fully 1/3 of our looms are empty.
I recently realized that an addition has been made to my ministry: I have become 'Information Central'. My customers email me with new ideas and good fabric information – knowing that I will pass it along. Here's one now: Be watchful for the high quality, light-weight wools from B. Black & Sons. www.bblackandsons.com Also, the 100% silk broadcloth from Thai Silks for cassock-alb construction is another customer suggestion (Item # 019C-000. This fabric comes in winter white and black). http://www.thaisilks.com/product_info.php?products_id=330&opt=000. If we're going to reclaim these crafts, we gotta share! And, I'll pass your suggestions along.
Here's another thing to keep in mind: The concepts of the simple black dress and Mix + Match. Use an inexpensive fabric for the body of the vestment (a polyester, for instance) and then a more expensive fabric for the decorative orphreys (a Dupioni silk or one of the damasks or brocades, for instance). Be sure to look at the Embroidery page for some super ideas!
Note: The polyesters and Dupioni silks are the fabrics included in my Teaching Stole Kits.
The Polyesters – $17/yard – 60 inches wide
Colors: dark green, medium green, white, cream, Pentecost red, violet, Roman purple, blue and rose.
Stole Lengths: $8 each for 4 inch and 5 inch priest's stoles and new deacon's stoles. $12 each for the wider V-Back priest's stole and wide deacon's stole.
I think of my polyester fabrics as my good 'workhorse' fabrics. I've been selling them for almost 30 years; excellent quality and good, solid liturgical colors. Mix and match them with the Dupioni silks or one of the damasks or brocades. The combination of the smooth, almost matte polyester with the slightly slubby texture of the gleaming silk is handsome! Another great decorative fabric is ultra-suede.
I also offer the polyesters as cut stole lengths. If you want to make only one stole, you don't have to purchase a full 60 inch length. Stole lengths cost $8 each to make the 4 or 5 inch priest's stoles and narrow deacon's stoles and $12 each to make the wider V-Back priest's stole and wider deacon's stole – which is also longer.
I'm happy to send samples at no charge.
The Dupioni Silks – $25/yard – 54 inches wide
(except medium green and rose are 45 inches wide and cost $20/yard)
Stole Lengths: $12 for 4 inch and 5 inch priest's stoles and new deacon's stoles. $16 for the V-Back priest's stole and wide deacon's stole.
Colors: dark green, medium green, white, ivory, Pentecost red, Holy Week red, violet, Roman purple, 2 shades of medium blue, rose, black, silver, wedding ring gold, old gold.
Dupioni silk is an excellent vestment fabric that works up easily and well. The fabric is somewhat slubby and has a soft gleam to it. The colors are luscious.
Some of the colors are produced by using threads of one color in the warp and another color in the weft. When such a fabric is turned 90 degrees upon itself, a significant shade change is shown. This old gold Dupioni stole is a prototype I did some years ago, just to see how it worked. I cut the main body of the stole length-wise; I cut the orphreys width-wise. What's more, as you move around, the orphreys appear and disappear – do you see how the top right and bottom right orphreys have disappeared? Whoa! (Pardon my messy workroom.)
Think about this idea as a chasuble orphrey…Hmmmmm.
It is my opinion that there is no finer fabric than Dupioni for constructing copes. Dupioni has a characteristic crisp body that makes copes flare rather than drooping heavily. The lightness of the Dupioni also causes copes to move – they're 'active' vestments.
Copes made of Dupioni should not be lined! You can line the inside of the front orphrey edges to give a bit of a flash – but, don't line the body, it will damp the cope down.
Chasubles however, should not be crisp. Chasubles need to drape softly. Dupioni used for chasubles needs to have a bit of the crispness taken out. This is easily done: Simply fold the silk neatly and immerse it in a basin of water. Take the Dupioni out and allow it to drain. Hang to dry. The color will run – not much though. I have one customer who simply puts the Dupioni through the washer. I'm not that brave.
Dupioni silk for stoles is simply fantastic! The colors sing! I have two customers right now who are making Advent stoles using the violet with the Roman purple – one for the face fabric and the other for the lining. Their problem is that they can't decide which they want for the front! There is the same problem with the two shades of blue; either would be perfect as the face fabric; so, how do you choose which to put where? On this stole, I used the darker blue as the lining.
Before I begin the next section, let me make an important point concerning your own personal skills and talents. I LOVE it when you send me pictures of the work you do. So many of you bring your own existing skills and talents to your vestment making. Look at these two Dupioni silk copes: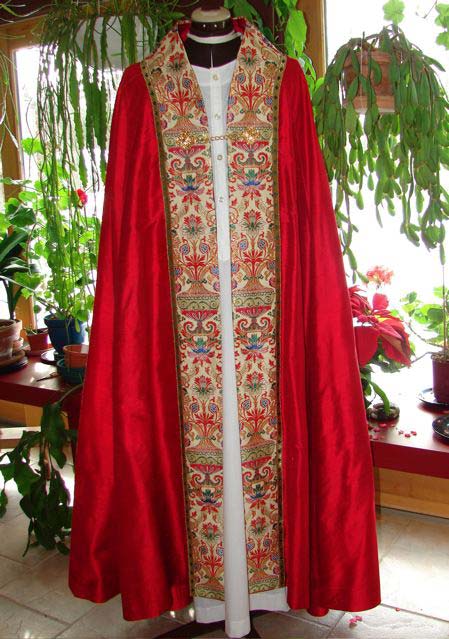 A girl named Pam made the white cope. Pam is a quilter – as you can see. Here's the back of her cope. Isn't that cope wonderfully full? No droopiness here!
I made the red cope. It's a nice cope! Those tapestry orphreys  are very traditional! It fits good on my dress form! And, it doesn't hold a candle in real design quality to Pam's cope.
Remember this as you come to design your own vestments: Bring your own skills and talents with you!