Liturgical Embroidery
Beautiful, lush embroidery is an integral part of our vestment, parament and linen liturgical tradition. We bear the tragedy that the skills required by these 'crafts' have been nearly lost. We are blessed that the Embroiderer's Guild of America is keeping these skills alive, waiting for us to take them up again. I pray there will again come a time when many people are fluent in these skills. (I use the word 'craft' loosely; strictly speaking, gold- and silk-work on our vestments and paraments and white-work on our linens is a true art.)
It is a sad fact that, as we began to lose our embroidery skills, our commercial vestment supply houses filled the gap by offering us pre-made embroidery appliques to couch onto our vestments, paraments – and, linens too. Many of our parishes still contain vestments with these pre-made adornments on them. As well, these pre-made appliques are still available for purchase.
And, during the last 15 years, we have seen the growth of a new skill – machine embroidery (also, incidentally, supported and encouraged by the Embroiderer's Guild of America). I've been watching this craft. Fifteen years ago, it was my judgment that machine embroidery was not going to work; machine embroidery would NEVER take the place of hand embroidery. Fifteen years has proven my judgment wrong.
I have an interesting customer who is a graduate of the Royal School of Needlework AND is a devout machine embroideress – interesting combination! And, she likes to do big work – large embroideries. Her embroidery machine won't go big enough. So, she does the major, central embroidery with her embroidery machine – and then, gets out her needles and metal couching threads and her silk flosses and proceeds to extend the machine embroidery outward until it's large enough for the big frontal she's working on!
Funny: My customers share a propensity with me: We are constantly 'getting ourselves in trouble' by saying 'Yes!' to the Holy Spirit. (I have one customer who introduces herself to me on the phone by saying, "I said 'Yes' again!" And, I know that we're going to begin a new project!
So, about two years ago, I said 'Yes!' to the Holy Spirit and, in doing so, I committed myself – and 27 of my vestment-making customers – to the grand project of constructing 47 camouflage stoles (meeting military specifications) – one for each of our Chaplains serving in Afghanistan. (This project blossomed later into the production of several hundred yarmulkes for our Jewish soldiers.) Military specifications require a dark colored cross to be embroidered on the stole ends. For this purpose, the Holy Spirit sent a darling girl named Sue Newman into my life. Sue did all the crosses – with a third cross at the back neck (which isn't included in military specs – but, we decided to do it anyway).
This stole project for our Chaplains serving in Afghanistan took 6 weeks – in itself, a miracle! Sue did the embroidery, I packed up the kits and men and women all over the United States constructed the stoles and sent them back to be shipped to Afghanistan.
This is what the finished stoles looked like: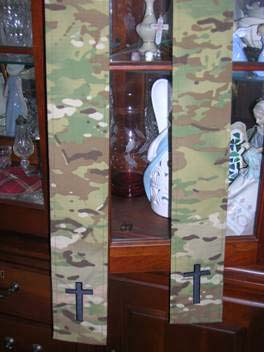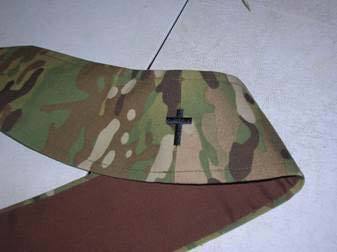 Each stole had a 'prayer panel' on the reverse side, signed by the person who worked the stole:
As the stoles came back to me, completed, I collected them in my dining room.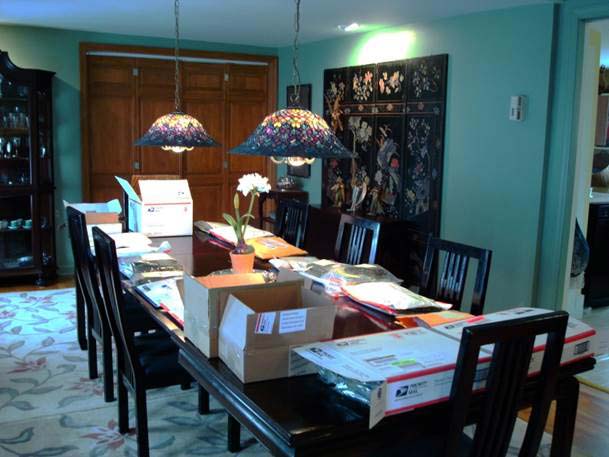 Here's the picture of my dining room table – opened all the way out – with ALL the stoles. I needed a big space! They didn't just send back the stoles! They sent stacks of pictures from the Sunday Schools, personal notes of thanks and prayer, church bulletins and invitations to visit, even a CD! I should have been able to ship 47 stoles to Afghanistan in one large box – it took three large boxes!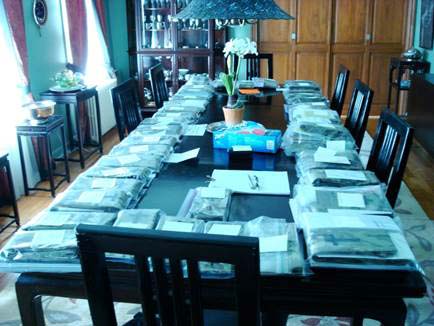 In use, in Afghanistan:
Although Sue and I had worked closely together during this time, we didn't meet until the day when we prepared the stoles for shipping:
The Chaplain's stole project is ongoing. We have inventory of the military camouflage fabrics and are happy to put kits together for anyone who wants to make one. Sue did this prayer panel:
While this may seem like a long way from the topic of embroidery, this Holy Spirit- given odyssey began for Sue and me an abiding friendship and business association. Sue and I don't work together; we work in parallel. We're both Christians (of course!); Sue's Roman Catholic and I'm Episcopalian so, we have a lot to talk about and constantly add depth to what we're doing here.
Sue Newman is the most astounding machine embroideress! Shortly after the Camouflage Stole project, Sue bought a new embroidery machine – A 10 needle Baby Lock Enterprise (with a camera for centering – which she says is a great time-saver). Using Sue's discount, we invested in a great many embroidery designs from www.windstarembroidery.com Acquiring new embroidery patterns is an ongoing effort.
You may have noticed that I offer an 1890s 'Embroidery Pattern Catalogue' ($18). This collection of thousands of traditional embroidery patterns is sometimes called 'The Brown Book'. For years, I've hoped that someone would begin digitizing these lovely patterns – Windstar is doing it! Their 'Vintage' designs are from The Embroidery Pattern Catalogue! Some of Sue's work can be seen on the Windstar website:
Cathedral of All Saints vestments – Winchester fabric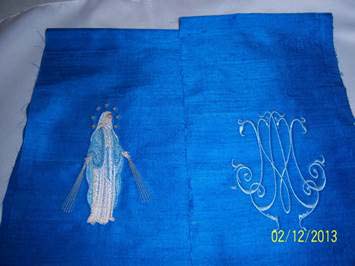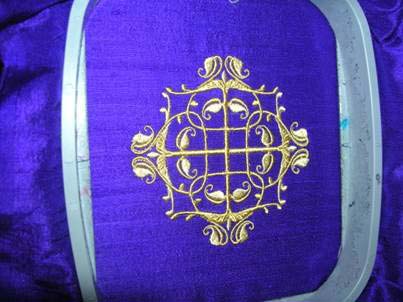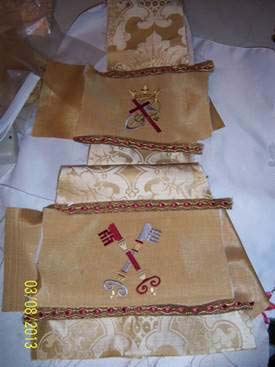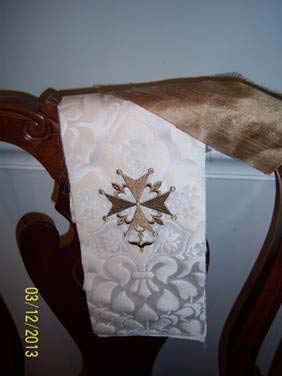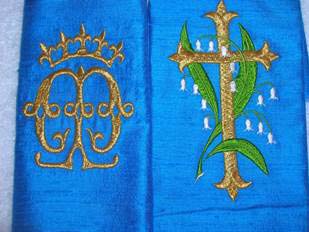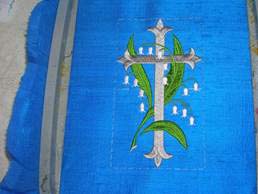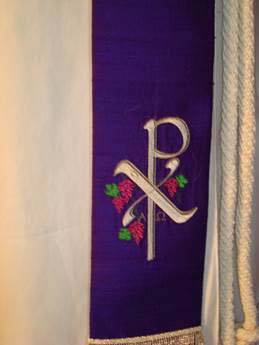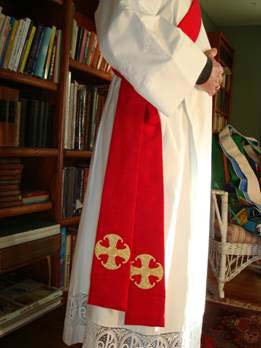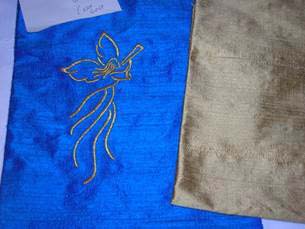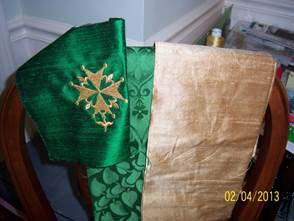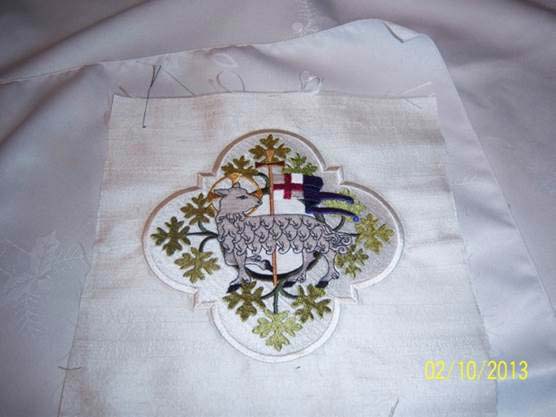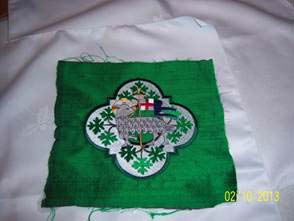 These two are all color reversible and washable!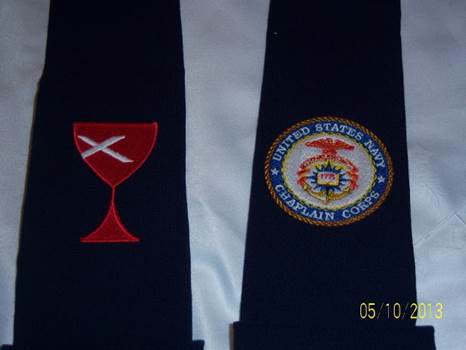 These are just a FEW of the designs available!!!
Sue also has an excellent digitizer for custom work.
This is our Cathedral of All Saints shield that Sue had digitized for us (the gold fabric is Roman Scroll):
This is another custom digitized design – copied onto new linens to match work done many years previously by a much-loved Altar Guild member.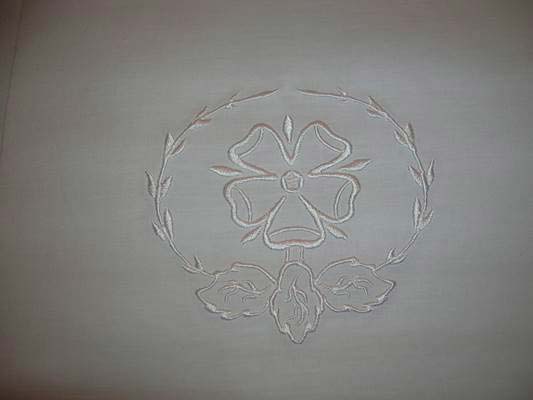 Working in parallel, Sue and I have worked out a way to make this lovely embroidery available to you – on a fully custom basis.
Sue recently completed this lovely custom stole for a girl who blesses animals.
It's simple: You and I work together to design your basic vestment – or linen. You and Sue work together to design the embroidery you want in the colors you want. I send the materials over to Sue; Sue does the embroidery and sends everything on to you. Simple!
For instance: My Cathedral is in need of a dozen purificators. I cut them and sent them to Sue. Sue embroidered lovely crosses – three different designs – and sent them back to me. I passed them out to the ladies – who are stitching the hems as we speak. Total cost? $10.50/purificator – $5.50 for the embroidery and $5 for the linen (plus 2 hours hemming time). Simple!
Now then: I want to show you something new that Sue and I came up with. Here are two pictures of stoles:
Question: On stoles that are to be worn all by themselves, will you please tell me why we put the embroidery all the way down there by the priest's feet? Why do we do that? Why not put the embroidery up by the priest's face – where it can be seen – without peering down at their feet?
I was speaking of this with a customer who was constructing a short hospital stole for her priest. She said, "These embroideries may be the last Christian symbols some patients see on this earth! Why put them down at the bottom of the stole where the patient cannot see them?"
As well, Sue and I feel that a single embroidery is preferable to two matching embroideries BECAUSE! We all know that within 5 minutes of leaving the sacristy, every stole goes crooked. If there is only a single embroidery, the crookedness doesn't show. Yes!
One other thing: Take another look at those two pictures. Both of those stoles were constructed with my stole pattern at its full length. I think those stoles are too long! The ends of stoles that are to be worn under a chasuble should just show under the chasuble hem – about mid-shin. My eye tells me that stoles worn all by themselves should fall just below the knee. What do you think?
Here's a picture of MANY different stole lengths and widths. What does your eye tell you about them? I really like the one in the front row, second from the right – could be an inch shorter? What do you think?